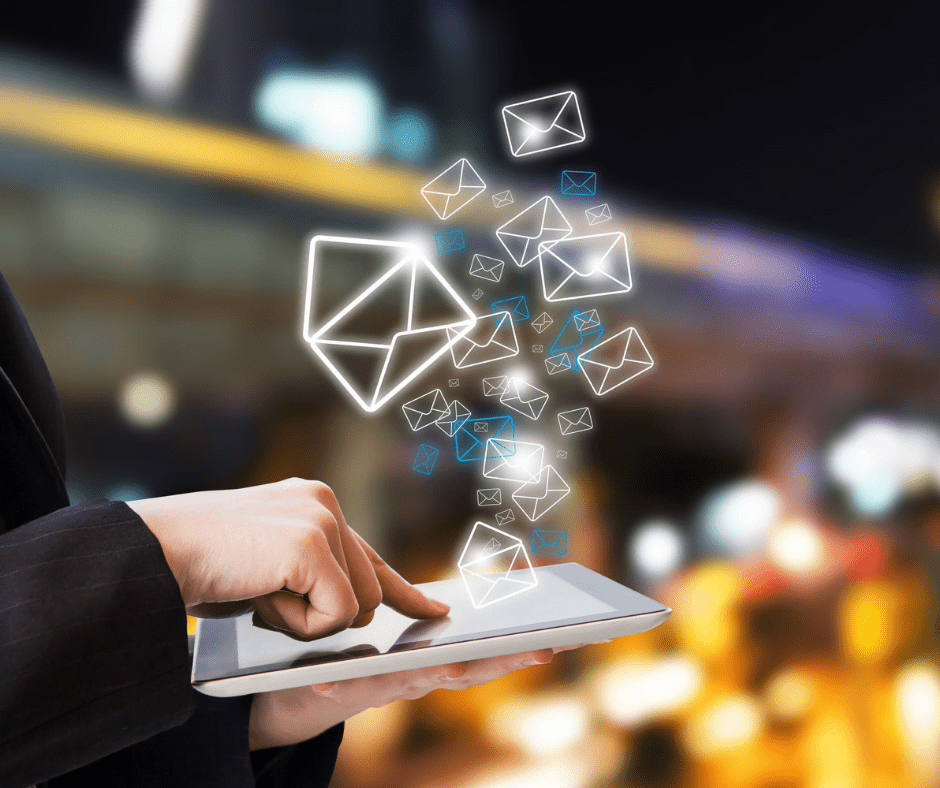 If content reigns supreme, email marketing reigns supreme. 
Many organizations are unaware of the actual potential of email marketing. 
A successful email marketing plan can expose your brand's true potential.
Many marketers consider their efforts worthless after receiving no response to a few emails. 
Email marketing is one of the most effective communication methods for brands to shape relationships with their customers, and this is one of the worst blunders you can do right now.
When communicating business-related messages, more than 86 percent of business professionals use email marketing. 
Another noteworthy fact is that clients who buy things by email are more likely to spend 138 percent more than those who do not subscribe to a list.
Email marketing is undoubtedly your finest "weapon" against your opponent, whether you manage a tiny business, promote an eBook, or oversee a global corporation. 
A well-managed email list is a substantial investment that can be used to continuously improve the performance of your business results.
We'll go over some crucial rules, tips, and methods in today's post to assist you to improve your email marketing performance. 
Pay attentively, jot down some ideas, and act!
To define your email marketing strategy, you must first understand your target audience.
I'm going to give you a heads up if you're new to digital marketing. 
This is the most popular and crucial piece of advice/tip you'll hear in the near future.
To know your audience, you must first comprehend their attitude, issues, requirements, and desires. 
Your job as a business is to add value. 
If you have an excellent grasp of your target audience, the materials and goods you offer will have a big impact, and you'll be more successful.
Keep your emails short, sweet, and useful.
Email marketing should not be long and tedious. 
You'll need to adjust to your customers' preferences if you want your emails to add value.
Short, brief, and valuable emails are generally the most effective. 
If you want your prospects to read a long piece of material, sending them to your website is the best option.
Your major objective is to make your subscribers aware of the value you provide. 
If you're promoting an article, give a brief overview of the topic and the benefits of reading it before concluding with a call to action. 
If you're selling something, direct them to your landing page after explaining the deal.
Only use relevant words. 
Remove all extraneous information and put yourself in the reader's shoes. 
When presenting more material, make sure to divide it down into parts. 
To make the material more skimmable, use more paragraphs and bullet points.
Make Your Email Subject Line More Effective
When it comes to headlines, you have to make an immediate impression. 
You're competing for your customer's attention not only with every other subject line in their email but also with the entire internet. 
Fortunately, tools like Omnisend's free subject line tester can help you improve your email subject line.
The subject line tester evaluates your subject line using best practices 
This tester will grade your subject line and provide you with fast feedback on how to improve it. 
While each subject line should be changed to make sure it's perfect for your email and your consumers, it's a wonderful place to start when looking for the right one.
Optimize Your Headlines Correctly
The subject lines of your emails are crucial. 
They can make all the difference between a lousy and a successful email marketing campaign, largely because they're the first thing users look at before deciding whether or not to click. 
Here are some suggestions for improving headlines:
Use Coschedule's email subject line tester to acquire an approximative quality score before deciding on a headline.

In the sender field, type your subscriber's name.

Use powerful words. 

These are emotional words that have an immediate effect on the subscriber's subconscious perception. 

They're well-known for increasing conversion rates.

Make your headlines more appealing by including data and statistics.
Your headlines should be A/B tested.
Use the preview text that shows next to your subject line to your advantage. 
Because these are the first words you'll type in the body text, be sure they're optimized.
Produce high-quality content with a distinct voice.
You must comprehend the real story behind all of this if you want to conduct a truly successful email marketing campaign.
For as long as he receives valuable information, opportunities, and products, an email subscriber will become accustomed to clicking on your emails. 
People will quit consuming your content if the quality is poor.
That is how the world functions. 
We dislike wasting our time on activities that do not provide value to our lives.
As a result, I recommend that you prioritize quality above quantity. 
Make your emails stand out by writing fewer of them.
Create a distinct voice and train your subscribers to recognize it. 
Imagine you're standing in front of a small audience while you write. 
Focus on the word "value" in this sentence.
Personalize Your Emails by Segmenting Your List
Email marketing segmentation is a very effective approach for getting the right material to the right people.
Because your list is made up of a variety of people that have distinct requirements and interests, list segmentation is the most effective strategy to boost conversions.
If you own an online shoe e-Commerce business, for example, divide the males from the women initially. 
Then you may create more categories to distinguish between people shopping for sports things and those looking for elegant items. 
Check out Neil Patel's guide for a better understanding.
Make CTAs a Habit for Your Subscribers
Salespeople never let their customers take the lead in a conversation. 
Additional questions, remarks, and calls to action are always on hand.
When it comes to email marketing, the same rules apply. 
Your readers are naturally passive. 
They open and read your emails before moving on.
Your goal is to persuade your email subscribers to click on your main CTA button and read what you have to say. 
You should only use one call to action in each email, but it should be very appealing.
An effective email keeps the reader's interest until the end of the content and motivates him to take action (CTA). 
Include social proof by displaying your subscriber count in your CTAs to boost their effectiveness.
Test, Test and Test some more.
Email marketing campaigns evolve with time. 
Trends shift, individuals shift, and everything shifts. 
Furthermore, until you test and analyze your performance, you'll never know if your email marketing methods are truly productive.
The most common method of research is A/B testing. 
Simply come up with different headlines and compare different techniques. 
Split testing should be simple if you're utilizing a popular email autoresponder.
Not the features, but the benefits
Make sure you focus on the benefits of your consumers rather than the characteristics of your product when sending promotional emails.
Few customers care more about what a product or service can do in general than what it can do specifically for them. 
Because most copywriting gurus are aware of consumer psychology, they always begin with the benefit. 
When writing headlines, follow the same guidelines!
Never, ever pay for a list.
Although purchasing email contacts may seem appealing, it is not a viable option. 
You should always build your list organically because it is the only way to maintain control over it.
You have no way of knowing whether the emails you purchase from third parties are from real persons. 
Second, because you don't know what they enjoy, desire, or need, you won't be able to classify them into relevant lists.
Last Thoughts on Email Marketing Strategy
Consider your email list to be your most valuable resource. 
One thing is for sure: your list will never be the same again. 
To take your game to the next level, you'll need to consistently improve your headlines, themes, and methods.
Conclusion
It is quite beneficial to keep up with the current digital and email marketing trends. 
Furthermore, studying your competitors' email marketing performance will make it a lot easier for you to find fresh solutions for the parts that are bothering you.
Take our suggestions into account and begin updating your list right away!
Contact nummero for the best email marketing services. We are the best digital marketing company in Bangalore, and we offer an array of programs like digital marketing services, social media management, and web development.