SEO content has a sufficient quantity of information to entice visitors not only to read your full article but also to look at the other stuff on your site.
It is one of the most cost-effective marketing tactics that may provide enormous revenues.
One of the key aims of content is to get your company's name out there. 
The idea here is that the more people who read your material, the more traffic your website will receive. 
With increased traffic, your site has a better chance of converting casual browsers into return visitors, and then into customers and users.
Organic search — unpaid search results based on a person's search utilizing long- and short-tail keywords — drives a lot of material on the web these days. 
Based on keyword relevance, each article links to other items on the blog.
For example, an article on email marketing may link to one about acquisition expenses since they both discuss customer experience at some point.
As a result, the blog structure is disorganized, leading readers into a rabbit hole. 
The good news is that there is a third option: topic clusters. 
This term refers to a collection of articles that are linked to a bigger, relevant topic. 
Instead of linking to the material at random, you establish an ordered blog structure that helps content rank higher in search results.
Here's an in-depth look at how topic clusters function and how they might help your SEO.
What exactly is a subject cluster?
A topic cluster is a grouping of articles that are all about the same thing. 
The primary theme, also known as pillar content, covers a wide subject, such as digital marketing. 
Topic clusters are subtopics that branch out of the pillar content — this is also known as the hub-and-spoke concept. 
Topic clusters for 'digital marketing,' for example, might comprise ,SEO,mobile marketing, display advertising, and social media management.
The topic cluster content method enables greater in-depth coverage of particular themes. 
For instance, if one subject cluster focuses on mobile marketing, you can investigate issues such as:
How to Communicate with Customers Using SMS
Rich media advertising makes debt repayment easier
How to Improve Customer Experience with Mobile Notifications
Topic clusters have two major advantages in terms of depth and organization. 
For starters, the material is becoming more visible. 
Each cluster allows you to go further into various themes. 
All of this connected material provides Google with extra information from your blog to crawl and index.
Second, all of this information assists you in ranking higher for more competitive search queries. 
Google will eventually recognize your site as an authority on a subject and rank your content higher than sites that don't provide as much insight and information.
Another advantage of subject clusters is that they make it simpler to address particular client pain points and respond to inquiries. 
Returning to the digital marketing scenario, suppose your target group is dissatisfied with social media marketing, notably Facebook advertisements.
You may write material that discusses how to make Facebook advertisements, what information to add to capture more leads, how to set a budget, and so on. 
When all of this material is collected, it produces a vast resource to which your audience can look for answers to all of their social media marketing queries.
What are the advantages of subject clusters for SEO?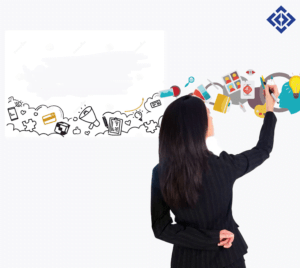 SEO is the simpler site structure is one of the primary advantages of subject clusters. 
This assists Google in locating your pillar content and related subject clusters. 
This is significant because individuals seek in different ways than they used to. 
People ask queries that begin with 'why' and 'how,' rather than typing a term into Google.
SEO, such as Google, have recognized this transition and have responded by altering their search algorithms. 
People now receive more relevant material based on subjects when they search.
Here's an illustration. 
Assume someone wishes to learn more about developing a mobile marketing plan. 
When you search for mobile marketing,' the top results range from articles about 'what is mobile marketing' to 'advice on mobile marketing.'
Users must browse halfway down the page to get the single result on mobile marketing strategy.
Overall, the user will be unsatisfied with these results. 
If they search for 'how to establish a mobile marketing plan,' the results are far more relevant to the user's search intent.
If you establish a mobile marketing plan subject cluster, your content will rise to the top of search results over time since it provides visitors with information about what they're looking for.
So, what can we take out of this?
A long-tail term, such as mobile marketing,' is a far better match for pillar content. 
Keep in mind that pillar material is a general introduction to a topic. 
Link to subject clusters within this resource.
This pillar material, for example, explains what mobile marketing is. 
The two highlighted links, on the other hand, connect to subject clusters regarding mobile marketing tactics and mobile indexing:
Use long-tail keywords inside specialty content to help your readers identify subject clusters more quickly. 
When users search for particular content, your related articles appear in the results. 
Use long- and short-tail keywords in your content strategy to help your pillar content and subject clusters rank higher. 
For example, to aid SEO, integrate long-tail keywords into URLs.
With topic clusters, your content competes with more than simply keywords and rival material; it establishes your blog as an expert on certain themes.
How to Develop Pillar Content
Now that we've discussed subject clusters and how they improve SEO, let's look at how to develop the content you'll need to make this strategy work for you.
Let us begin with pillar content. 
It emphasizes material at the top of the funnel that appeals to a broad audience. 
Because the target keywords have a high search volume, there is a lot of competing material.
Here are some examples of pillar content themes and the monthly search traffic associated with them:
90,500 per month for inbound marketing
Email marketing = $9,500 each month
Customer involvement equals $12,100 each month.
Customer acquisition costs $9,900 per month.
People that choose short-tail keywords are most often at the beginning of their customer journey. 
They require broad information to learn more about a subject, product, or service in which they are interested.
For example, 81 percent of customers prefer to undertake internet research before purchasing something – whether online or in a physical store. 
If a marketer wants to find more effective ways to manage their client base, they can seek 'customer relationship management.' 
As you can see, the search results are intended to educate readers.
Not only should pillar material educate readers but it should also be created in such a way that it remains relevant for a long period.
It shouldn't matter if someone searches for 'customer relationship management' now or in a year – the material should be broad enough to stand the test of time.
The process of creation
Pillar content should address the audience's pain points and solve an issue they are having. 
This material should be broad rather than deep, and it should contain a lot of useful information.
3,000 words or more is the recommended length for core material. 
Because pillar information is lengthy, put headers and sub-headings throughout to make it easier to skim and understand. 
The following is the procedure for developing pillar content:
Learn about your ideal audience and consumers. 
Determine the sorts of people you want to attract to your website. 
Consider their hobbies, the goals they wish to attain, where they live, their likes and dislikes, and their demographics. 
The more you know about this demographic, the easier it will be to create content that they will want to read.
Determine what your ideal audience and consumers require or want to know. 
To determine how to meet their demands, ask your audience what their pain areas are. 
Send a survey to current customers, for example, via an email marketing campaign.
Other methods include analyzing internal data, such as queries from customer calls to your support team, and evaluating the sorts of comments posted on social media and those received via your online contact form.
Create material and then examine it. 
Use a program like Google Analytics to determine which kind of content receives the most views. 
Create more of the same sorts of material based on what you discover.
Create more than one pillar once you've decided on the sort of information you want to publish. 
Multiple pillars allow you to broaden your specialty and reach a larger audience. 
Your subject clusters will go into further depth. 
Remember that pillar material is intended to assist you to attract various types of individuals to your blog.
How to Make Topic Groups
Topic clusters are aimed towards distinct audiences. 
Topic clusters divide your viewers into distinct subtopics, whereas pillar content draws them. 
The search traffic for subject clusters is lower than for pillar content, which is fine because the individuals reading these pages are seeking specialized information. 
Topic clusters provide specialized material, therefore they will naturally draw a smaller audience.
Assume your pillar content is about inbound marketing; the search volume for related subject clusters would be:
How to Survey Customers = $40 Per Month
170 effective focus group questions every month
How to upsell 50 consumers per month
Whereas pillar content emphasizes breadth, subject clusters emphasize depth. 
Topic clusters also allow you to go deeper into themes because they focus on middle- and bottom-of-funnel information. 
As a consequence, the audience for this material is more advanced in their customer journey. 
Their preliminary study is complete, and they now want to learn more about the topic, product, or service you provide.
The first temptation when generating content for subject clusters may be to depend heavily on keyword research to increase organic traffic. 
Remember that if you create quality pillar material, it will organically lead visitors to your specialty content.
Conclusion
Begin experimenting with subject clusters and monitor their influence on your traffic and ranking. 
Track how visitors interact with your site after you begin to change from focusing on keywords to driving traffic to focus on themes to driving traffic. 
Topic clusters make it much easier for users to browse your site and locate what they're looking for, which is another approach to keep them on your site for longer. 
SEO is a lengthy game, but you'll see an increase in traffic to your site over time.
Get in contact with Nummero now for the best internet marketing services. We are the Best digital marketing company in Bangalore.