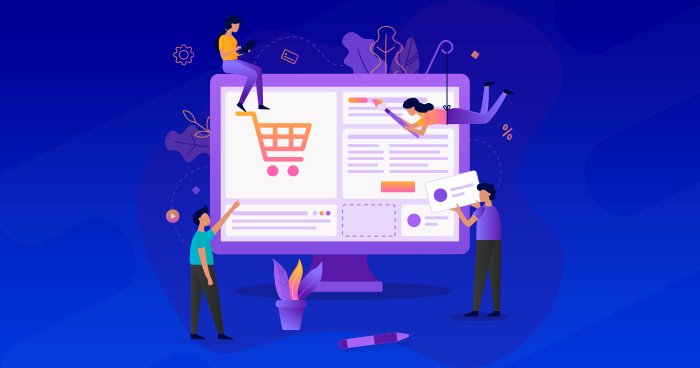 An e-commerce platform is a complete software system
that enables online businesses to manage their operations.
E-Commerce website builders, accounting and inventory management systems
and client service infrastructure are all part of this sort of business.
So,An e-Commerce platform may be a lifesaver if you want to start an online business
from scratch or as an extension to an existing brick-and-mortar store.
In this post, we will explore why your company most likely requires this service,
list the important elements of a successful e-Commerce platform,
and go through five common software options.
Why should you use an e-Commerce platform?
So,Running an online business is a difficult effort that necessitates several processes,
ranging from the creation of a website to the acceptance of payments and the management of inventory.
Software solutions enable you to handle all of these procedures and eliminate
the hassle of dealing with each one separately.
E-Commerce systems include everything you need to run and develop your
online business without complicating your day-to-day operations.
Using an e-Commerce platform is less expensive than developing software from
scratch and more convenient than utilizing several plug-ins.
Elaborate E-Commerce platforms make the purchase process easier for your consumers,
avoid system breakdowns and technical difficulties,
and assist you in troubleshooting them when they occur.
As a result, you may spend less time assisting your customers with
their purchases and more time refining your sales process and increasing your income.
All of these benefits make E-Commerce systems worthwhile investments.
Let's go into the specifics and learn about the characteristics you should look for
when selecting the finest E-Commerce solution for your company.
Features of an e-Commerce Platform
Globally, there are 7.1 million internet shops, and the number is growing.
It's no surprise that the market has a plethora of e-Commerce systems.
Finding a solution to your company's demands might be difficult.
To choose the finest service, examine the following features of any e-Commerce platform you are considering.
Interface
Any E-Commerce platform must have a user-friendly, intuitive interface for website development.
However, you may struggle to construct a website using these options.
Some may necessitate technical abilities, such as HTML expertise or WordPress familiarity.
To select the finest and most convenient platform for you, try out many options and
choose the one that appeals to you the most.
Look for a platform that allows you to build both product pages and blog entries.
This feature may come in handy if you decide to use content marketing
to gain new consumers or to boost your website's search results with a series of SEO-optimized articles
Design options
So,Most E-Commerce systems include a plethora of ready-to-use designs and themes,
allowing you to quickly and simply customize the appearance of your website.
Take note of how many free and paid templates your solution offers.
Look at the platform's community for more designs.
It will save you both time and money.
On the other side, you may have a vision for your future store or it may evolve through time.
In this scenario, look into the design modification options provided by your E-Commerce platform.
The best option is to choose a platform that provides
the ideal combination of design flexibility and a wide range of pre-made templates.
Store management system
Management systems are at the heart of any E-Commerce website since they distinguish online stores from other types of websites.
You'll need three frameworks to run your shop:
An administrator can use the product management system to upload items to your website and maintain listings.
A good solution should support bulk uploads, product categorization and mapping, and the creation of dynamic catalogue filters such as sorting, price range, colour, size, and so on.
So,The order management system is in charge of processing customer orders.
To do this work quickly, it should contain order tracking, email alerts, and a shipping service API.
You may manage your return policy using the return management system.
It should have return criteria and kinds, as well as the ability to make and approve requests, print invoices, and change statuses, among other things.
These systems may included as part of your E-Commerce platform's basic bundle,
or you may be able to integrate with services that supply them.
Payment processing
You can't do business until you take money, and that's not as simple as it seems.
You should think about the currencies you use, the payment methods
your consumers prefer, tax regimes, and other factors.
The major issue here is the payment gateway that your E-Commerce platform employs.
A payment gateway is a processor that transfers money from the accounts of your clients to your own.
This component frequently restricts payment methods and specifies the currencies that your service may accept.
Define the payment methods that your E-Commerce platform supports right out of the box.
You may also discover which third-party services you can combine with your
program to broaden its capabilities.
Security
You must safeguard your customers' data at all costs.
Data breaches and leaks will have disastrous consequences for your company.
As a result, it is critical to ensure that your E-Commerce platform has enough security solutions.
To ensure the security of your transactions, ensure that your E-Commerce platform
adheres to the PCI security guidelines — a 12-part set of criteria for websites
that handle payment information.
SSL certificates are another feature of a secure website.
They are a sort of file that allows a browser to execute sensitive transactions safely.
The functionalities described above are the foundation
that your e-commerce platform should supply or allow you to easily implement.
However, several systems go above and above by including features such as fraud and DDoS security.
Support
When running a web store, you will certainly encounter technological difficulties.
They will occur at some time, no matter how hard you attempt to avoid them.
So,Support from an E-Commerce platform can assist you in quickly troubleshooting these issues and reducing downtime.
Begin your investigation of your provider's assistance with any available material on their website.
A vast collection of FAQs, how-to, and tutorials will lead you through
the most common difficulties without the need to contact a support staff member.
Another sign of strong support is the existence of forums or
Q&A areas where you may ask other users for help.
Finally, learn more about contacting the support staff.
Examine the channels your E-Commerce platform provides for contacting professionals and how quickly they respond to inquiries.
You may also read reviews on third-party websites to see how your provider handles consumer concerns.
Promotion opportunities
The majority of E-Commerce systems provide several alternatives for promoting your online business.
Many of these solutions are outside of the service's normal bundle,
so you must determine which ones will match your E-Commerce marketing plan.
The most important factor to consider here is SEO
since 70% of marketers feel it is a more efficient acquisition channel than PPC.
Pay attention to E-Commerce systems that are SEO-friendly.
They should let you utilize your domain name, establish a blog, and collect client feedback.
Keep in mind the number one SEO trend: mobile optimization.
Because mobile devices account for more than half of all internet traffic,
an E-Commerce platform should provide your online shop with a mobile version or mobile app.
You can't manage your website if you can't assess its performance.
The only method to make timely modifications and enhance your company
outcomes is to calculate your results.
Using a collection of tools for analytics, on the other hand, might be difficult and time-consuming.
So,Check that your E-Commerce platform allows you to gather and retain data,
or that it allows you to integrate with analytics providers.
Having trouble deciding which indicators to monitor?
Follow our guide to the customer success indicators you need to monitor to
ensure the health of your business.
As your company expands, these criteria may become insufficient.
As a result, consider the scalability of your E-Commerce platform.
Another aspect to look for is flexibility, which frequently be found through connections with third-party services.
So,Check to see if your solution integrates with major CRM, CMS, marketing automation, and other applications.
We've disassembled a few pieces of a high-quality E-Commerce platform.
If you're looking for a suitable option, keep reading — our study of five popular services awaits you.
The Best E-Commerce Platforms
E-Commerce systems vary greatly, so try out a few before making your final selection.
To assist in the creation of killer web stores,
we gathered options ranging from market leaders to small businesses.
Let's dive a little deeper!
WooCommerce
WooCommerce has the most market share of any E-Commerce platform.
Because the service based on WordPress, you must be
technically knowledgeable and conversant with the CMS.
So,Setting up a WooCommerce web store may not be for you if you are inexperienced with WordPress.
Don't worry, there are plenty of other alternatives.
WooCommerce has 23 design templates that may customized.
The service has a wide range of extensions, allowing you to customize your website to your unique company requirements.
However, this E-Commerce platform lacks scalability; as the number of clients and
orders increases, the response time of your website may degrade.
Because of the numerous WooCommerce add-ons available,
web businesses built with this platform accept a variety of credit cards, bank transfers, cheques, and cash.
You may take payments using 140 region-specific payment gateways,
such as Stripe, PayPal, and Amazon Pay.
There are also subscriptions and deposits available.
So,WooCommerce extensions cover topics including product and order administration,
shipping, automatic tax calculations, iOS, and Android mobile applications, marketing integrations, and more.
This platform may be used in conjunction to automatically export email addresses,
create automated campaigns, and send trigger,
transactional, and promotional emails.
These strategies will boost your revenue and buyer connections .
With a knowledge library and a users' forum, WooCommerce assists with the technical elements of establishing and managing a website.
You may also employ platform-recommended developers to personalize your website.
WooCommerce consolidates data about your sales, customers, items, taxes,
and so on to help you assess your business's success.
So,In the example below, you can examine the revenue results for a certain
time and compare them to the results from the prior year on the graph.
Wix Stores
So,Wix is a well-known website and landing page builder that has recently incorporated E-Commerce functionality.
This platform's major benefit is its drag-and-drop editor and quantity of configurable design themes.
The business even offers to construct your website for you using the Wix ADI tool.
This E-Commerce software also handles SEO for your website, providing a customized plan.
In-depth site performance metrics, social and email marketing tools,
and a plethora of integration possibilities are among the other essential features.
Wix Stores accepts a variety of payment options such as credit and debit cards, PayPal, and Wix Payments.
The algorithm will automatically choose the best solution for your location.
You will have access to order and shipment management tools as well as a tax management tool.
Even better, Wix Stores allows you to sell through several platforms, including Facebook and Instagram.
One disadvantage of this service is its limited storage capacity, which makes
Wix unsuitable for large or fast-developing enterprises.
However, the business offers on-site setup assistance as well as phone and
chat support 24 hours a day, seven days a week.
Wix Stores' user interface is straightforward.
So,The primary dashboard displays total income, the number of goods sold,
and the number of transactions.
Shopify
Shopify, one of the most well-known e-Commerce systems, provides an easy-to-use drag-and-drop editor for website building.
There are 9 free and 64 premium pre-made themes available, which are organized by industry, aesthetic style, and so on.
Shopify supports a variety of currencies and takes payments by Visa, Mastercard, American Express, Google Pay, and Apple Pay.
So,For data security, the service includes PCI compliance and 3D Secure checkouts.
Other benefits of this e-Commerce platform include a shipment management system,
discounted carrier services, sophisticated analytics, and more.
Shopify has a support team, a help centre, and a few forums to assist you to deal with all of these features.
Conclusion
So,In the early phases of establishing a business, E-Commerce systems
allow you to develop and manage your website without coding or employing a team of specialists.
These services provide you extra marketing options.
More customized and advanced marketing solutions may be required for faster development and greater results.
So,You may also contact Nummero, an e-commerce website development company in Bangalore.